The 100 Collection - Mark Smith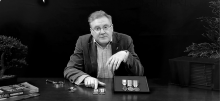 In light of the Britianna Medal Fair cancelling, Mark Smith has decided to present the collection that he would have shown at the event virtually instead. As you maybe aware, he's called it: The 100 Collection
For his 100 Collection Mark Smith has uncovered some real gems including an Egypt Medal to a Chaplain, a Royal Flying Corps Pilot wounded in 1917, the most beautifully engraved Great War Military Cross awarded for Ypres in 1915 and a very rare DCM to the Manchester's for their action at Munich Trench on the Somme in 1917.
The event will be held on a virtual platform from the 13th - 16th November 2020 and be found on the following link.
https://www.baldwin.co.uk/baldwins-virtual-medal-show/
Please note: The link will go live on Friday 13th November.