OMRS Convention Report 2019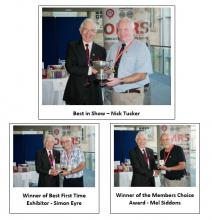 HIGH STANDARD OF EXHIBITIONS AT OMRS CONVENTION 2019
Exhibitors set an exceptionally high standard at the Orders & Medals Research Society Convention held in Nottingham on 14 and 15 September 2019. Not only did the number of displays increase – with half a dozen OMRS members participating for the first time – but the depth of research and the design of the exhibitions won widespread praise from those attending the Convention.
Nick Tucker won the Society's Diamond Jubilee Perpetual Challenge Cup for the Best in Show for Lest We Forget – The Sacrifice of One Family Name in the Great War 1914-1919. This was a superb piece of research into the 490 service personnel bearing the surname Tucker who gave their lives during the First World War. Nick displayed his work with his characteristic flair and attention to detail and also received one of seven Gold Medals awarded to exhibitors.
The Henry Pownall Memorial Cup for the Best First Time Exhibitor was awarded to Simon Eyre for Researching WWI Distinguished Service Medals. The display demonstrated the full nominal roll for these naval gallantry awards and the methods by which research into DSMs – the recommendations for which can be difficult to trace – can be conducted. Simon also received a Gold Medal.
Those attending the event at the Nottingham Conference Centre decided that Derbys at the Dargai by Mel Siddons should be the winner of the Members Choice Award. This detailed and colourful exhibition told the story of the 2nd Battalion Derbyshire Regiment during the fighting on the Dargai Heights on the North West Frontier of India in 1897.  Mel was also awarded a Gold Medal.
All the trophies and medals for exhibitors were presented by Air Commodore Graham Pitchfork, the retiring President of the OMRS.
A change of format from three talks to two during Saturday was well received by those attending the Convention. Paul Handford's presentation Mr Herbert Mowle Kendall – a Journey of Research with a Unique Outcome celebrated the core values of the OMRS in which research into recipients plays a vital part. Mark Reid, from Canada, spoke about Researching Canadians of the Great War, providing invaluable insight into the sources available to medal collectors,
The Saturday night Convention Dinner moved to a new location in the Old Chemistry Theatre at the Nottingham Convention Centre, which is part of Nottingham Trent University. The superb weather enabled more than 90 guests to attend an outdoor drinks reception before filing into the remarkable theatre with its elegant arched windows and high ceiling. It was a memorable end to a most enjoyable day.