New Publication Announced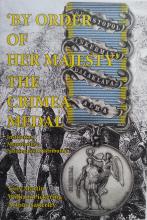 The Society is pleased to announce the publication of 'By Order Of Her Majesty' The Crimea Medal by Tony Martin, William Pickering and Arthur Satterley.
The Crimea Medal radically changed the entire process of both the manufacture and distribution of campaign medals forever. Awarding such medals in bulk was a relatively new concept anyway, but pressure from Queen Victoria to issue this one while the campaign in the Crimea was still being fought placed huge strains on those responsible for ensuring that soldiers and sailors received recognition. In the process this created problems for collectors which continue to this day because so many medals were issued unnamed. This fascinating study by a team of three authors looks at the institution of the medal and its clasps, the monarch's influence, the manufacturing process and includes a detailed look at the naming – both official and unofficial – of the medal. It is the most comprehensive study of its kind ever undertaken and is a must for medal collectors and for anyone who is interested in the Crimean War. 
Published September 2017, 155mm x 234mm, case bound with colour jacket, 368 pages, numerous black and white illustrations, ISBN 978-0-9957505-0-0. This limited edition is priced at £15.00 to members (restricted to one copy each) and £20.00 to non-members, plus post and packing. To order and pay using credit and debit cards via the Society website click here. Members and non-members may also order by post with a cheque (made payable to 'OMRS') via the General Secretary (enquiries to: generalsecretary@omrs.org): OMRS, PO Box 1220, Spalding, PE11 9FZ, United Kingdom.