OMRS News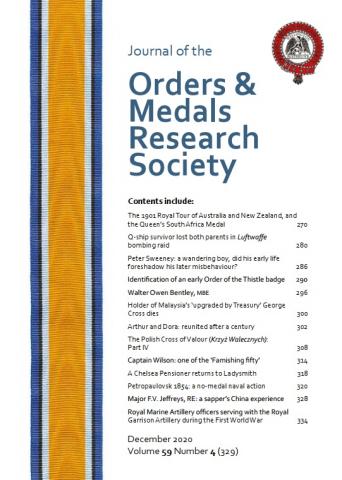 The December 2020 Journal is now available and covers the following topics:
The OMRS Convention is scheduled to return to London in 2021 after an absence of six years. However this will be subject to any COVID-19 restrictions still in place at the time. The plan is to hold it on the weekend of 25-26 September 2020 at the Holiday Inn in Bloomsbury, a venue familiar to many regular Society Convention-goers. The event was held there for several years before it moved first to Stratford-upon-Avon and then Nottingham.
Our Society exists to promote a general interest in the study of orders, decorations and medals and to actively encourage and publish research into all aspects of civil and military medals, with a particular focus on those issued by Great Britain and the Commonwealth countries.
Members' interests range from awards for gallantry in battle, or bravery in saving life, through forgotten wars and far-flung campaigns, to long and meritorious public service away from the limelight. Research interests stretch from pure numismatics, through the military or social history surrounding the circumstances of awards, to the genealogy of the medal recipient.